I've always loved the concept of fantasy mixed with the darker aesthetic of visionaries like Tim Burton and wanted to find a way to incorporate it into my photography. After looking at tons of amazing styled shoots online, fellow Longview photographer Melody Ojeda and I teamed up with Molly McWhorter of Dollface Makeup Artistry for a collaborative styled shoot that (little did we know) would end up spurring an amazing series of styled shoots that Molly and I are still working on to this day.
Once we decided on a theme for our styled shoot, I put out a model call on Facebook. We got a lot of great entries but when Courtney Cameron sent us her photo, I immediately knew that she was our Little Red.
How breathtaking is Molly's artistry? I knew she was talented but this shoot really helped me realize how well we work together. She knows exactly how to bring my vision to life, even when I can't really explain it to her.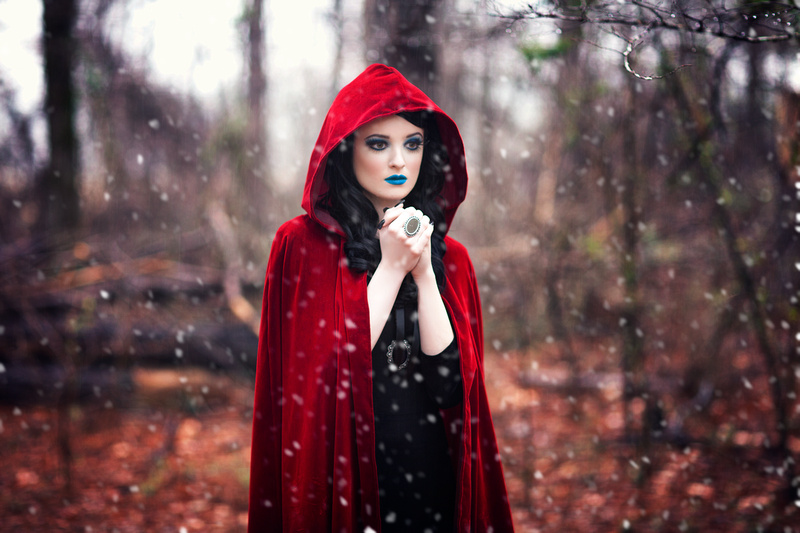 I tend to really worry when things don't go according to plan, so sitting in the living room looking outside the windows to watch the rain come down while Molly applied Courtney's makeup really had me freaking out. Jefferson, Texas was awfully dreary that day. Once we got outside, Courtney was a COMPLETE pro and it ended up being the perfect setting for our shoot. Then to top it all off, sweet Molly was such a champ and held the umbrella over my head while she got soaked.
I can't even tell you how excited we were when we were featured in Dark Beauty Magazine! Having our work alongside all of these other amazing creatives was just a confirmation that we were onto something big.
Keep Dreamin',
Lindsay